Swim Lessons
Swim Lessons by AquatiKids of Atlanta,  we provide professional swim lessons to infants, babies, toddlers, and children from six months of age to six years old.
We offer private, semi-private, and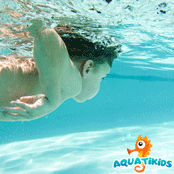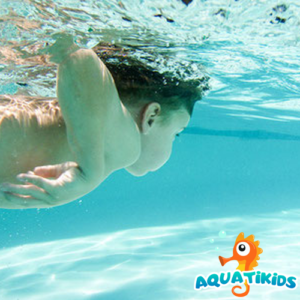 small-group lessons, focused on instructor-to-student interaction and learning.  Currently, our swim program is offered four days a week, with swim lessons held every 10 minutes from 5pm to 8pm.  In late 2017 and upon the completion of our Atlanta aquatics center, our swim program will expand and offer additional swim instruction days and times.
During each swim class, new techniques are slowly introduced to ensure student confidence, safety, and retention.  Our Infant Swim Lessons Class:  Infants will learn to rollover from a face down or submerged position onto their backs to relax and breathe.  They will also perform these skills while fully clothed before graduation.  Our Little Fish Swim Class:  Teaches the survival swimming technique we call SWIM • FLOAT • SWIM, teaching a small child to swim on his tummy, roll over to get air, flip back to swim and then to propel themselves to the side of the pool unassisted and fully clothed.  In our School of Fish Swim Lessons, children learn how to best apply their skills above and below water.  This intermediate class reinforces all that they have learned and instills confidence.  To graduate, students will swim 15 feet without the aid of a flotation device, face in the water, and breathing as needed. This class is also a great refresher course for students of prior class sessions.  Finally, our Swim Honors Swim, is a custom swim program designed to offer additional swim instruction, enhance swimming skills, and introduce advanced techniques in a private, one-to-one setting with the student and instructor.  Some students require additional time to master certain skills and others desire a more challenging curriculum.  This program allows additional time for those skills to be developed and perfected.
AquatiKids Swim Lessons of Atlanta is focused on professional swim lessons to infants, babies, toddlers, and children from six months of age to six years old.  Swim lessons are important for your child's safety, learning to swim can be their lifeline.  Call and schedule Swim Lessons for your child or visit our
class schedule and booking page
.